Murogeopietra system has brilliantly passed all the tests on materials and installation procedures requested by the French public authority CSTB / Centre Scientifique et Technique du Batîment. It also obtained the Technical Evaluation (Avis Technique) and the Document Technique d'Application (TDA) by the committee (CCFAT) for the use in original construction methods.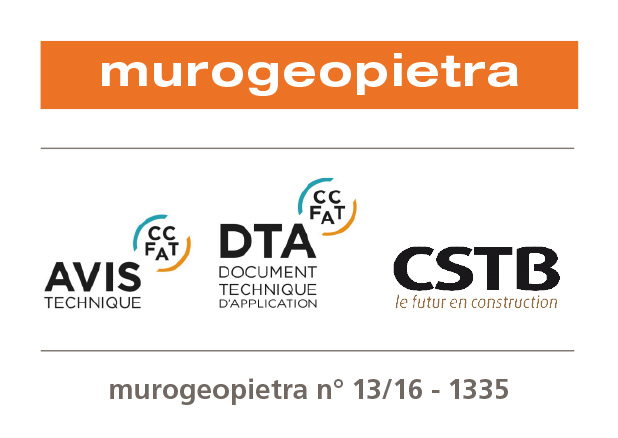 murogeopietra and mastrosistema on Fassa Bortolo insulation system has brilliantly passed the 8 phases of seismic stress required by the French public authority CSTB.

Mastrosistema thought and created for the installation of murogeopietra on exterior thermal insulation Fassa Bortolo - is the first European quake proof system tested according to Eurocode 8 at the French public authority CSTB / Centre Scientifique et Technique du Batîment.

July, 4th 2016 - CSTB
Quake proof Test Eurocode 8
FRANCE July, 4th 2016
Regulation establishes the essential requirements applicable to buildings and civil engineering in an earthquake zone and provides the rules to represent seismic actions and their combining with other actions, in order to safeguard lives in case of earthquake, to limit damages and permit to civil protection's most important structures to remain safe.
1. Wall installation on the machine simulator.
2. Execution of the 8 phases of the seismic stress test.
3. Wall checked by the technicians on site after the test:
no collapses, detachments or cracks have been observed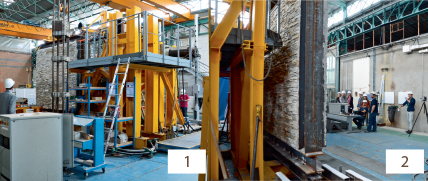 CSTB - Test SBI (Single Burning Item) / Determining material's fire and smoke classes. EN 13823
FRANCE July, 4th 2016
Herewith we report soma data regarding the fire test made on wall covering murogeopietra installed on 160 mm external thermal EPS insulation; this test confirms murogeopietra as a not flammable material and attests a complete lack of toxic smoke development. This means that murogeopietra protects the undelying insulation against heat , so that sublimation is avoided during the time necessary for evacuation.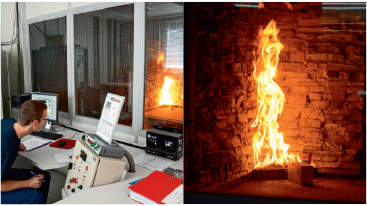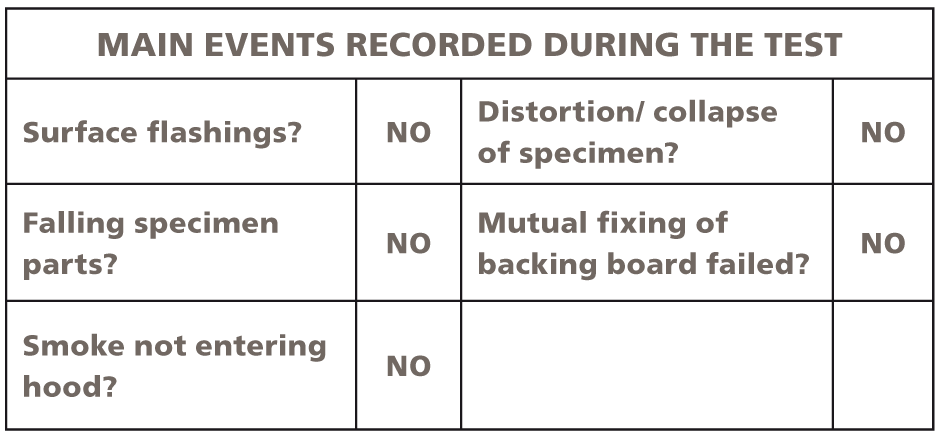 This important Fire Test confirms and integrates the results obtaned in Austria in 2010 at the IBS - Institut für Brandschutztechnik und Sicherheitsforschung GmbH
2010 - CLIMATIC CHAMBER
Ideatori convinti della possibilità di porre una finitura in pietra su cappotto isolante, ci siamo preoccupati di non avere cedimenti negli anni e sopratutto non alterare le caratteristiche termiche dell'isolante. Prove di laboratorio ci hanno portato a modificare più volte i materiali componenti il murogeopietra fino al raggiungimento di un equilibrio  perfetto.

Austria IBS / Institut für Brandschutztechnik und Sicherheitsforschung GmbH 2010 - FIRE TEST
Great importance was given to safety at the design stage. In Europe there are specific regulations governing escape routes in case of fire. In the case in point, our Murogeopietra cladding system coupled with the EPS insulation coating, which is notoriously sensitive to fire, was not supposed to collapse and obstruct the escape routes during evacuation of the building, which was established in 30 minutes under the action of a flame hitting the escape route directly at 900°C. The test was successful and the insulation did not collapse at all thanks to the stone veneer's high thermal inertia, which protected it for the entire time required.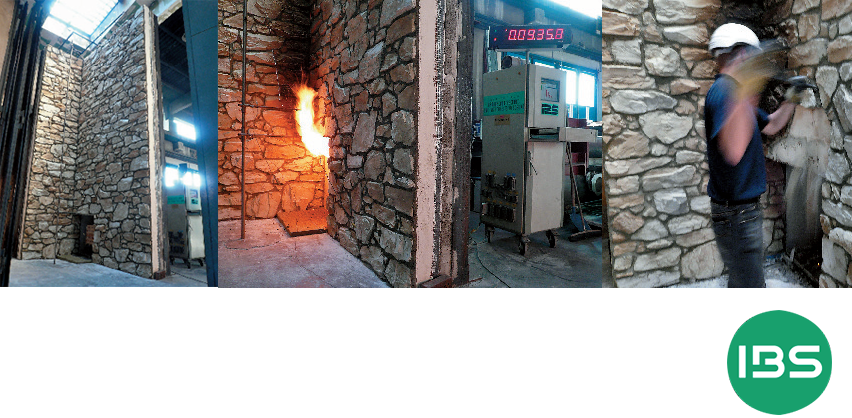 2014 -ACCELERATED AGEING on exterior thermal insulation.
We were greatly concerned about the possible presence of water in the structure due to external weathering or the passage of vapour and its disposal. A test performed at Milan Polytechnic confirmed the validity of the system and the corrections made to the ingredients used. At the same time, we tested the same insulation cladding coated with cut natural stone, and we found that it was impossible to use it, just as we had supposed. The non-modifiable technical values, such as permeability to vapour and weight, significantly affect the efficiency of insulation.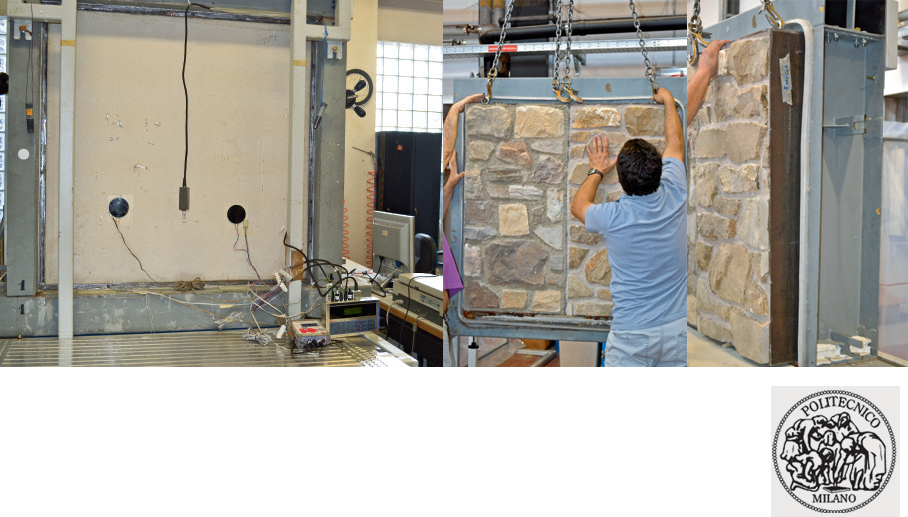 murogeopietra is known and appreciated for its unequalled aesthetic qualities, and can add numerous benefits to the efficiency of buildings.
murogeopietra expresses its best technical properties in the cladding of external thermal insulation systems and enhances its overall performance.
MAIN BENEFITS OF MUROGEOPIETRA LAID ON EXTERNAL THERMAL INSULATION AND VENTILATED WALLS
1.
Thermal resistance
The high thermal inertia of the Murogeopietra veneer acts as a shield against surface thermal shocks. Temperature variations (even sudden in certain circumstances) do not directly hit the insulation layer but they are dampened by the protective outer cladding.
2.
Increased thermal lag
Thanks to the excellent mass-to-thermal conductivity ratio, Murogeopietra enhances insulation and extends the thermal lag of the building structure, thus increasing cooling performance in the summer months.
3.
Fire resistance
The thermal inertia values of the Murogeopietra veneer make the insulation cladding resistant to fire for longer, thus benefitting the evacuation of the building during a fire.
4.
Wind load resistance
Murogeopietra, combined with the Georete mesh substrate and the safety screw anchoring system, helps reduce problems due to high wind load
5.
Enhanced surface performance
Murogeopietra protects the surface of the insulation layer against any dents.
6.
Improved sound performance
The asymmetric surface and high mass of Murogeopietra creates a barrier against sound waves and attenuates their propagation.

GEOPIETRA creates the most believable eco-friendly manufactured stone veneer in the world. Rigorously made from natural raw materials, each stone is coloured manually and transformed painstakingly into a highly crafted product, which is always unique. It is then laid skilfully to achieve excellence with an inimitable aesthetic result. 


Murogeopietra is marketed as a single integrated system. It uses the Geocoll levelling glue system, state-of-the-art laying of the GEOPIETRA cladding on a previously prepared substrate and the application of the GEOBI two-component mortar. All these materials have been developed in complete synergy according to modern construction requirements.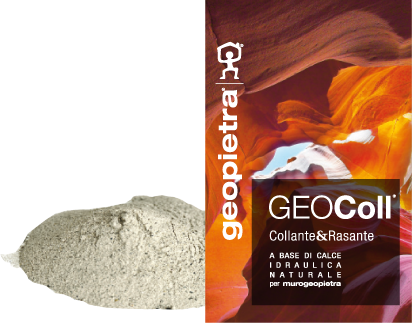 BASED ON NATURAL HYDRAULIC LIME

Geocoll levelling glue has been specifically formulated to suit the laying properties of GEOPIETRA manufactured stone veneer (weight, absorbency and breathability), and perfected to enhance laying performance and lifetime on any type of substrate and especially on external thermal insulation. Suitable for indoor and outdoor use, GEOCOLL contains natural hydraulic lime, which gives high fluidity, no vertical slippage, breathability and good mechanical properties.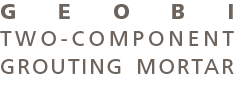 GEOBI is an innovative two-component (dry/wet) lightened mortar that is ideal for finishing GEOPIETRA manufactured stone veneer; it is entirely natural and suitable for indoor and outdoor use. The characteristics of GEOBI mortar are similar to those of GEOPIETRA manufactured stone veneer, which gives even technical features to the finished masonry. The wall is lighter, breathable and its composition is even. It comes in 5 colours and 2 particle sizes. GEOBI is extremely versatile and meets a variety of styles – from rustic to smoothed texture