Old walls provide guidance, so that the precision, warmth and beauty of buildings of days gone by can once again be evocative and find expression through Murogeopietra®.
Dialogue between tradition and modernity
Throughout time there have never been bad walls, because it was their function, first and foremost, that determined their value. The combination of shape and function leads us to the very root of the beauty of stone.
Having understood how much the actual work to install the natural manufactured stone veneer affects the end result and expression of wall designs, we searched the past for secrets passed down through generations that enable the implementation of harmonious designs that fit perfectly into natural surroundings.
Solid walls have provided us with a learning tool - understanding their limitations has been an experience that has consolidated and enhanced our expertise.
Viewing the constraints of loadbearing walls as an opportunity has enabled us to recognise and incentivise the potential of manufactured stone veneer with regard to innovation and change.
Manufactured stone veneer has now replaced solid stone in modern construction systems.
Experience and knowledge are available to everyone through courses, videos and technical manuals, because only a well-coordinated team creates complete harmony and satisfaction for everyone.
AESTHETICS AND FUNCTION TOGETHER FOREVER
Advanced materials and installation in one unique integrated system
Natural manufactured stone veneer Geopietra® materials and installation procedures match naturally now just as they did in the past, offering significant, new possibilities of expression in contemporary architecture.
The guaranteed murogeopietra® system represents the excellence of company research, in terms of cutting-edge technology and design in energy-saving solutions for the building trade, and is ideal for anyone wishing to design and build in line with green, efficient principles without structural and technical constraints.
All components have been designed for mutual synergy, and in line with current construction requirements.
The special GeoColl® adhesive and the two-component GeoBi mortars, specially designed to complete and accentuate the quality of Geopietra® natural manufactured stone veneer, have evolved from industry experience spanning 20 years. The originality of our mixes and the technical characteristics of the materials are crucial for the final result.

DESIGN, CONSTRUCT AND INHABIT STONE
The golden rules for accentuating a manufactured stone veneer installation
Nowadays, stone walls transfer their loadbearing function to the underlying structure, but ashlar joints, the texture pattern and the horizontal arrangement of courses must be guaranteed by a perfect installation.
Today's use of stone as a purely aesthetic feature, actually involves understanding the stone construction method and the elements that characterise it, such as arches and architraves, which are essential for achieving a harmonious, authentic installation. Doors and windows are especially fundamental for accentuating the character of Murogeopietra® coverings.
The different types of Geopietra® natural manufactured stone installation, using dry techniques or with mortar, have precise guidelines and principles, but it is the manual ability and creativity of installers that bring them to life.
AN UPDATED INSTALLATION PROCEDURE
GeoFit® enhances stone structures with ease
Observing the natural landscape and spontaneous/rural architecture inspired us to create our special GeoFit® SMALL / BIG / SASSO inserts.
It is mainly attention to detail on finishes that enhances the natural and three-dimensional characteristics of our products.
The addition of special pieces with different shapes and colours makes a manufactured stone veneer installation fluid, bestowing the wall texture with vivacity and visual stability.
GeoFit® reproduces thin chips to fill gaps between stones in dry walls. Small stones and rocks gathered near construction sites provided stability for larger stones in the walls of traditional dwellings.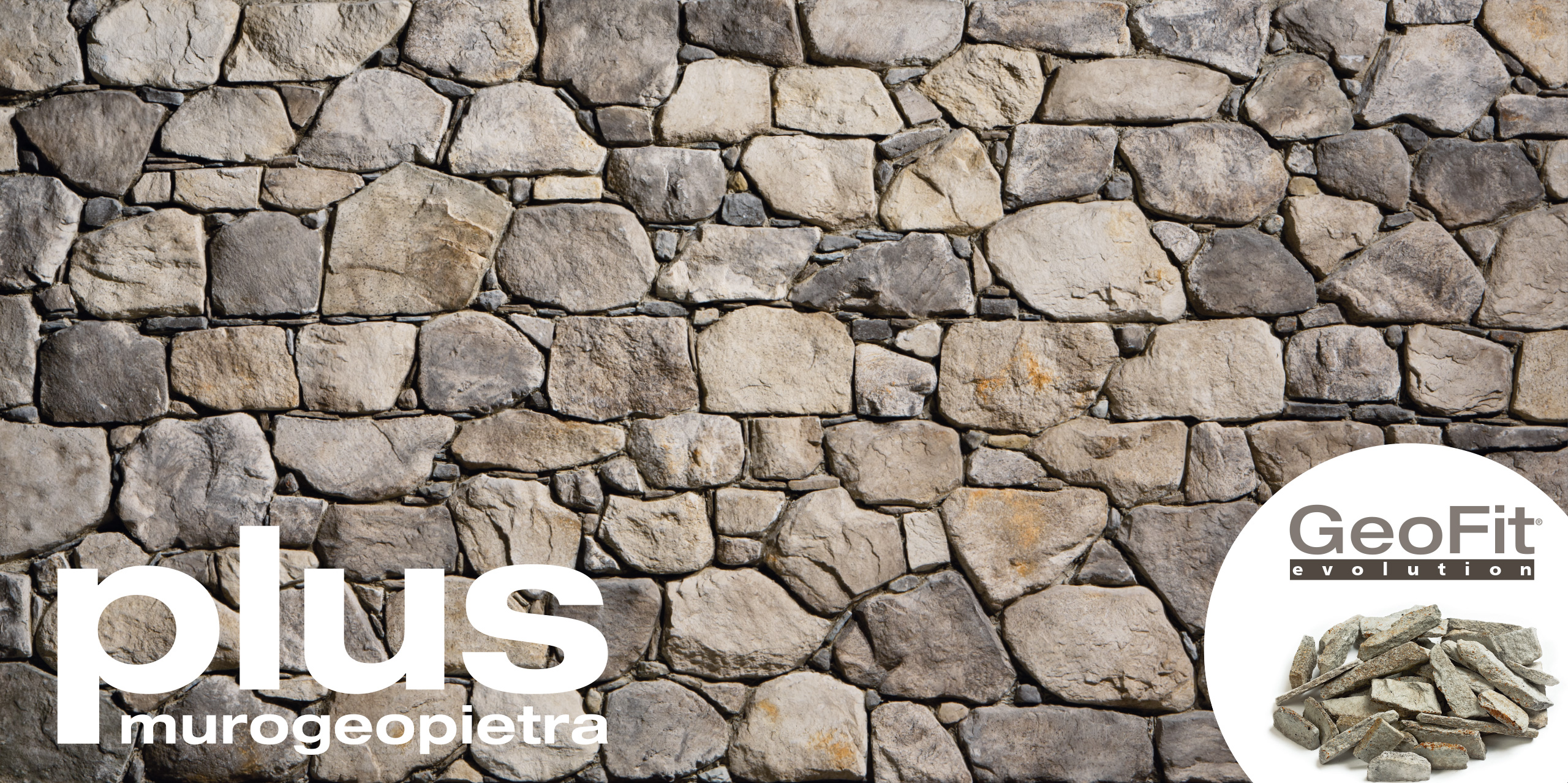 ALSO OF POTENTIAL INTEREST
TECHNICAL AREA
TECHNICAL CONSULTATION
The technical department is at your disposal to resolve practical, technical and aesthetic queries in line with modern building requirements.
TECHNICAL AREA
INSTALLATION OF MANUFACTURED STONE VENEER ON INSULATION
A video tutorial provides a step-by-step explanation of mechanical fastening and the installation of manufactured stone veneer in the guaranteed abitasistema® solution.