Traditional walls have characteristics and features that differ from area to area, through designs with two simple materials, mortar and stone, combined with technique and passion.
The installation of manufactured stone veneer 'connected' with lime mortar is widely represented in European wall tradition.
Anyone looking at a mortar stone wall often only focuses on the shape and colour of the stone and considers the finish as a simple addition, not realising that it is the composition in its entirety, grain and colour included, which appeals, not to mention the endless joint implementation possibilities.
Therefore rediscovering the appeal of mortar and grouting, or in some cases their absence, creates a remarkable impact on the appearance of a stone design, and affects the final look.
As a result, for a good design to become an excellent installation it is essential to know how to observe what exists already, understand the potential of manufactured stone veneer, and follow installation instructions to the letter.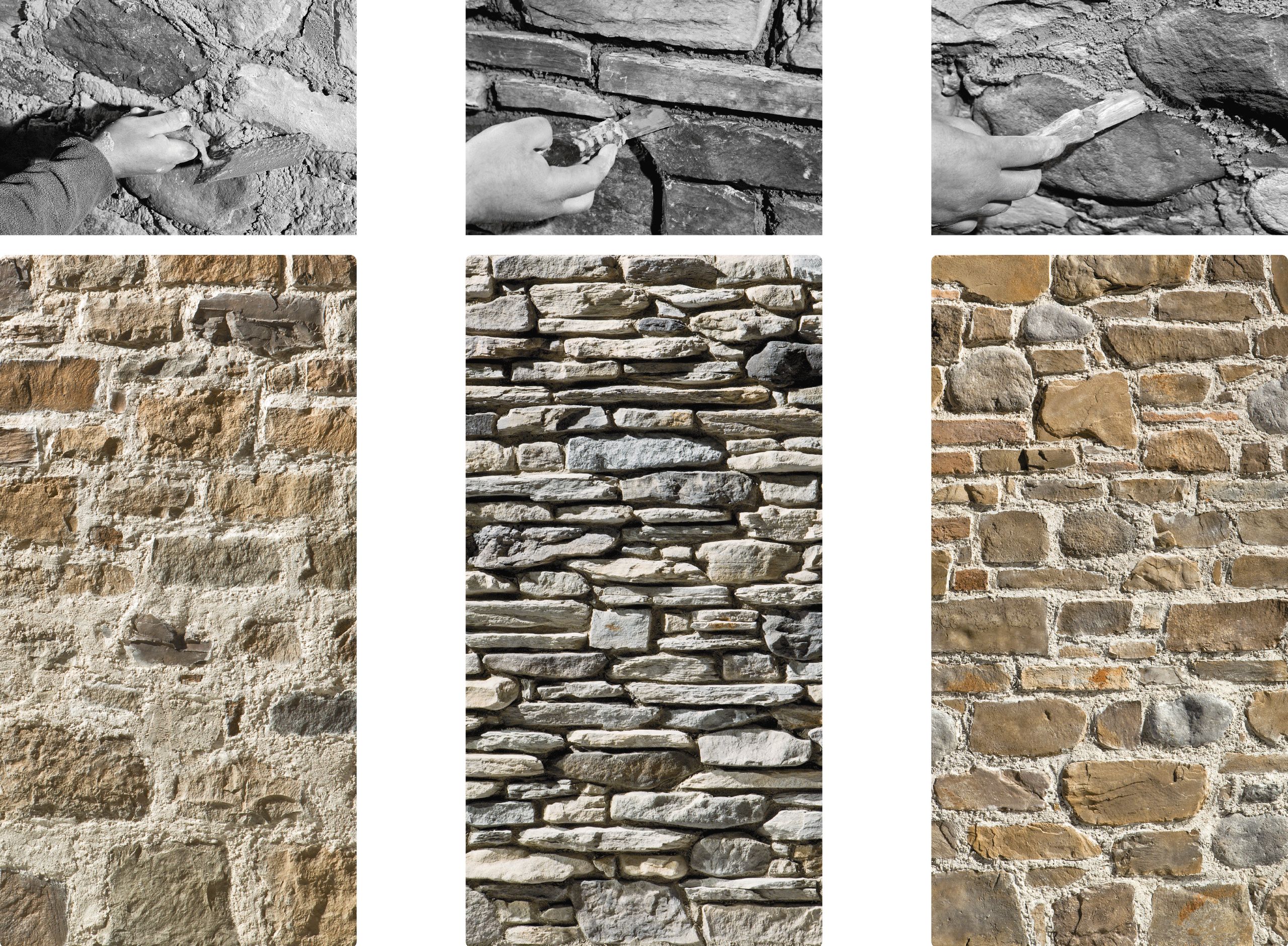 TWO-COMPONENT GEOBI GROUTING MORTAR
Colour and grain in just one product
GeoBi is an innovative two-component (wet/dry) lightweight mortar which is perfect for finishing off Geopietra® mortar stone wall. It's completely natural, and suitable for indoors or outdoors.
Two grain sizes and six colours, selected from soils and mortars typical of Europe, match the shades of our manufactured stone veneer models, giving our mortars the chromatic vibe of local constructions.
With the advent of new construction and energy efficiency requirements, grouting implemented with sand/cement-based mixes is inadequate. The different characteristics of weight, breathability and thermal expansion between mortar and stone create technical issues, such as the occurrence of thermal bridges, excess weight, cracks etc.
Thanks to GeoBi, the physical properties of mortar similar to those of Geopietra® natural manufactured stone veneer, make the technical characteristics of the finished wall uniform.
Walls are lighter, can breathe, and have a uniform composition.
With its technical qualities GeoBi is essential for all installations on all external heat insulation.
COLOURED, PRE-MIXED POWDER MORTAR | 6 COLOURS

WET VOLCANIC AGGREGATE | 2 GRAIN SIZES

THE NATURALNESS OF A MORTAR FINISH
Endless design possibilities
We have created two-component GeoBi natural mortar for manufactured stone veneer after analysing traditional walls, and the wide variety of sands and mortars used.
Defining the colour and working the mortar into joints requires the same care that is applied to choosing the stone model, colour and type of installation.
The GeoBi finishing mortar contributes to the 'time-worn' charm of the murogeopietra® covering in various ways, through its natural colour, the depth to which joints are filled, the grain size, and the technique used to form joints.
Thanks to its versatility it meets varied aesthetic requirements, from rustic charm to smooth textures, and enables long-forgotten procedures with joints that are smooth and regular, sunken or flat, or finishes with a large grain, with wooden rods, and a rustic, cut, over-grouting or trowel technique.
GeoBi grouting mortar is a major practical contribution to installing beautiful, functional walls.
FINISH WITH STANDARD JOINTS
A passion for detail and the natural imperfections of old walls, thanks to the work of the seasons, has led us to discovering what distinguishes that which is simply a stunning stone wall from an authentic, emotionally-charged creation. A standard joint highlights the profile of the stone, and the mortar, inserted to a certain depth using a piping bag, can then be smoothed, cleared or scored.
FINISH WITH FULL JOINTS
The grouting technique with GeoBi mortar plays a leading role in the finish of Geopietra® mortar stone wall.
Full joints recapture the charm of old walls. Filling flush to the stone is simplified due to the GeoBi large-grain mortar being convenient to use.
Traditional grout features are reproduced with a contemporary vibe for stunning finishes and designs.
FINISH WITH OVER-GROUTED JOINTS
Defining the colour and working the mortar requires the same care that is applied to choosing the characteristics of manufactured stone veneer. The over-grouting technique fills joints and also partially covers the edge of the stone.
This type of finish makes the wall continuous and very compact, thanks to masterful grouting that transforms a pleasant location into a perfect space.
ALSO OF POTENTIAL INTEREST
TECHNICAL AREA
GEOBI AND THE ART OF
MORTAR GROUTING
The beauty of the Terrakotta brick-effect wall covering is also accentuated by the finish. The video shows various finishing styles.
TECHNICAL AREA
INSTALLING AND FINISHING
TERRAKOTTA BRICK
The video tutorial provides standard rules for installing brick-effect wall covering.