Materials and installation procedures match as naturally now as they did in the past, offering significant, new opportunities for expression in contemporary architecture that aims to ensure the wellbeing of building occupants, and safeguard the environment.


The first earthquake proof stone veneer wall in Europe, even on exterior thermal insulation.
Murogeopietra® solution on EPS fully complies with
fire safety standards for buildings (test LEPIR II).


THE INNATE SUITABILITY OF murogeopietra®
FOR INNOVATIVE CONSTRUCTION METHODS.
Geopietra® has always been committed to developing innovative materials and installation methods, obtaining endorsements for its products, providing the best guarantees for use on premises, and ensuring the safety and efficiency of the property solutions created.
FRANCE July, 4th 2016 | CSTB - Test Eurocode 8
Quake proof Test UNI EN 1998-1
Murogeopietra® is the first earthquake proof stone veneer wall in Europe, even on exterior thermal insulation.
In 2018 Geopietra® deemed it necessary to also validate this process on the façades of buildings subject to specific regulations, such as residential buildings, public buildings, accommodation facilities and tower blocks, with the LEPIR II test.
In 2018, Geopietra® considered it necessary to confirm the SBI (Single Burning Item) results achieved by the fire test passed in 2016, also on the facades of regulated buildings.
FRANCE August 2018 - 2023 | CSTB - Test LEPIR II
Propagation of fire outside façades for buildings subject to specific regulations (residential buildings, public buildings, tower blocks)
Murogeopietra® solution on EPS fully complies with fire safety standards for buildings and meets criteria for non-propagation of a flame front beyond the next floor level. Murogeopietra® procedure on EPS passed the LEPIR II test, allowing it to clad R+4 buildings up to 2,000 m altitude with joints technique.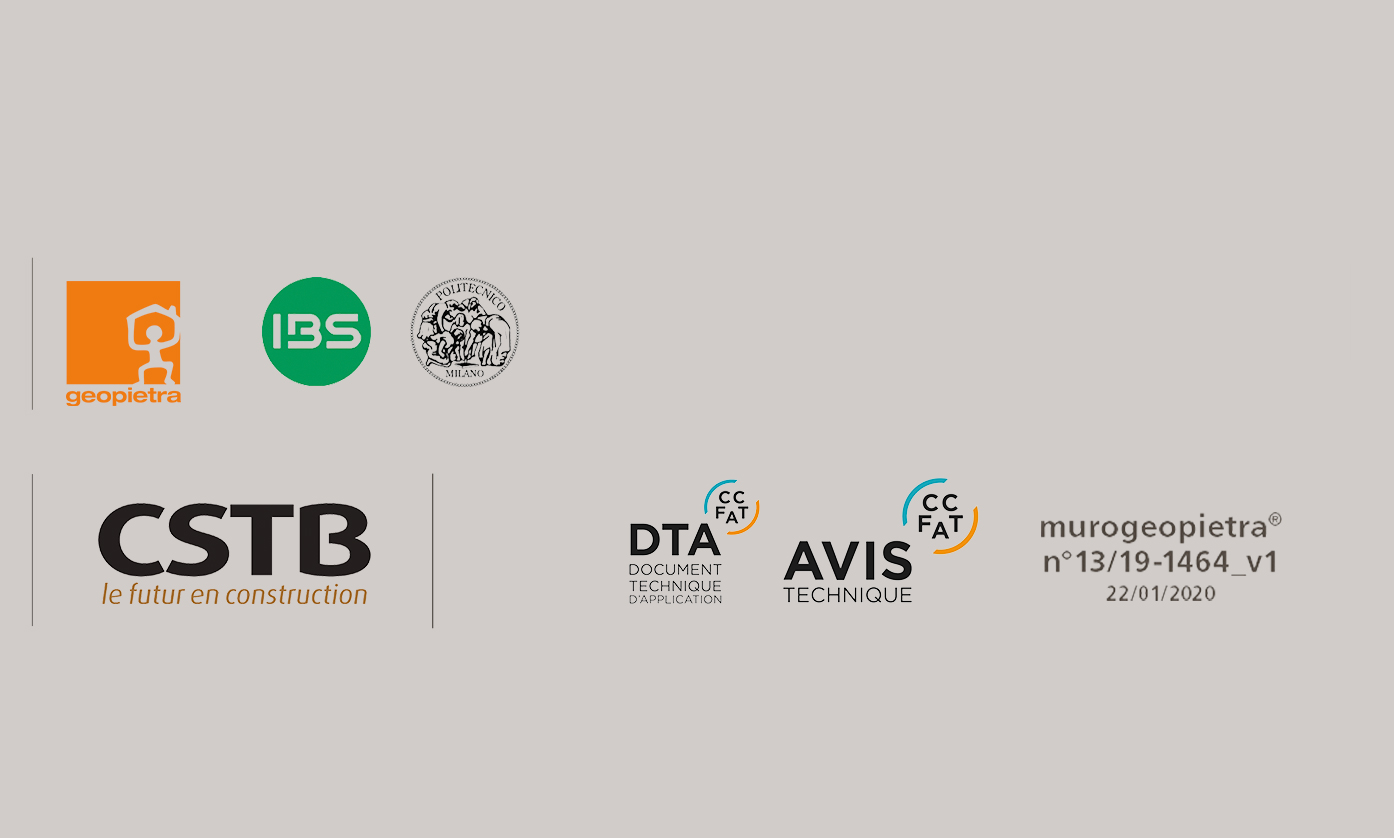 INNOVATION AND TESTING
FRANCE July 2016 |
Murogeopietra® system has brilliantly passed all the tests on materials and installation procedures requested by the French public authority CSTB / Centre Scientifique et Technique du Batîment.
It also obtained the Technical Evaluation (Avis Technique) and the Document Technique d'Application (DTA) by the committee (CCFAT) for its suitability for use in innovative construction methods.
BENEFITS OF THE SYSTEM ON EXTERNAL INSULATION AND VENTILATED FACADES
The awareness that the wellbeing of building occupants and energy efficiency are wrapped up in the optimal arrangement of the building envelope, has focused our attention on wall layers and climate requirements.
Reduced weight, breathability, the perfect balance between thermal resistance and inertia, are the characteristics that make it possible to also install Murogeopietra® on external insulation.

Murogeopietra® is currently the only guaranteed finishing solution in manufactured stone veneer and brick that meets and improves the performance of external insulation.
Murogeopietra® enhances the performance of insulation, and makes the structure stronger and more robust, adding 7 major benefits to the cladding system:
The considerable thermal inertia of Murogeopietra® acts as a shield against surface thermal shock, which is the main cause of external insulation systems failing.
Variations in temperature (which can be sudden in some circumstances) do not affect the insulation layer directly, but are damped by the protective external covering.
Thanks to an excellent weight/thermal conductivity ratio, Murogeopietra® contributes to insulation and lengthens thermal lag in walls, increasing cooling performance in the summer months.
On structures exposed to a fire hazard (timber frames, EPS insulation), the presence of Murogeopietra® extends fire resistance time, facilitating building evacuation during a fire.
Along with the Georete support mesh and safety plugs, Murogeopietra® helps reduce issues due to wind.
Murogeopietra® protects the insulation surface from impact.
Thanks to its irregular surface, Murogeopietra® helps to interrupt sound waves (especially models with indented surfaces). With its mass overlaying the structural mass, sound propagation is reduced.
Geopietra® natural manufactured stone veneer can combine and express different styles and architectural designs. Excellent technical features and full compatibility with current construction systems and materials, mean it is especially appreciated in contemporary architectural solutions, which draw character and emotional strength from these designs. Mould technology, the unique aging process and manual processing, painstakingly transform the stone into a one-off, craft product. Geopietra® offers the chance to create a unique design, and express a personal vision of creativity and modern living.
MATERIALS DESIGNED IN COMPLETE SYNERGY
Murogeopietra® represents the excellence of company research, in terms of cutting-edge technology and design in energy-saving solutions for the building trade, and is ideal for anyone wishing to design and build in line with efficient principles, without structural and technical constraints.
Murogeopietra® places no limit on the aesthetic design of façades and, thanks to the natural characteristics of its finish, it is perfect for both new constructions and renovations.
The special GeoColl® adhesive and two-component GeoBi mortars, specially designed to complete and accentuate the quality of Geopietra® manufactured stone veneer, have evolved from industry experience spanning 20 years. The originality of our mixes and the technical characteristics of the components are crucial for the final result.
Murogeopietra® is sold in one integrated system, involving the use of GeoColl® adhesive, the professional installation of the Geopietra® covering on a suitably-prepared base, and the application of the GeoBi mortar finish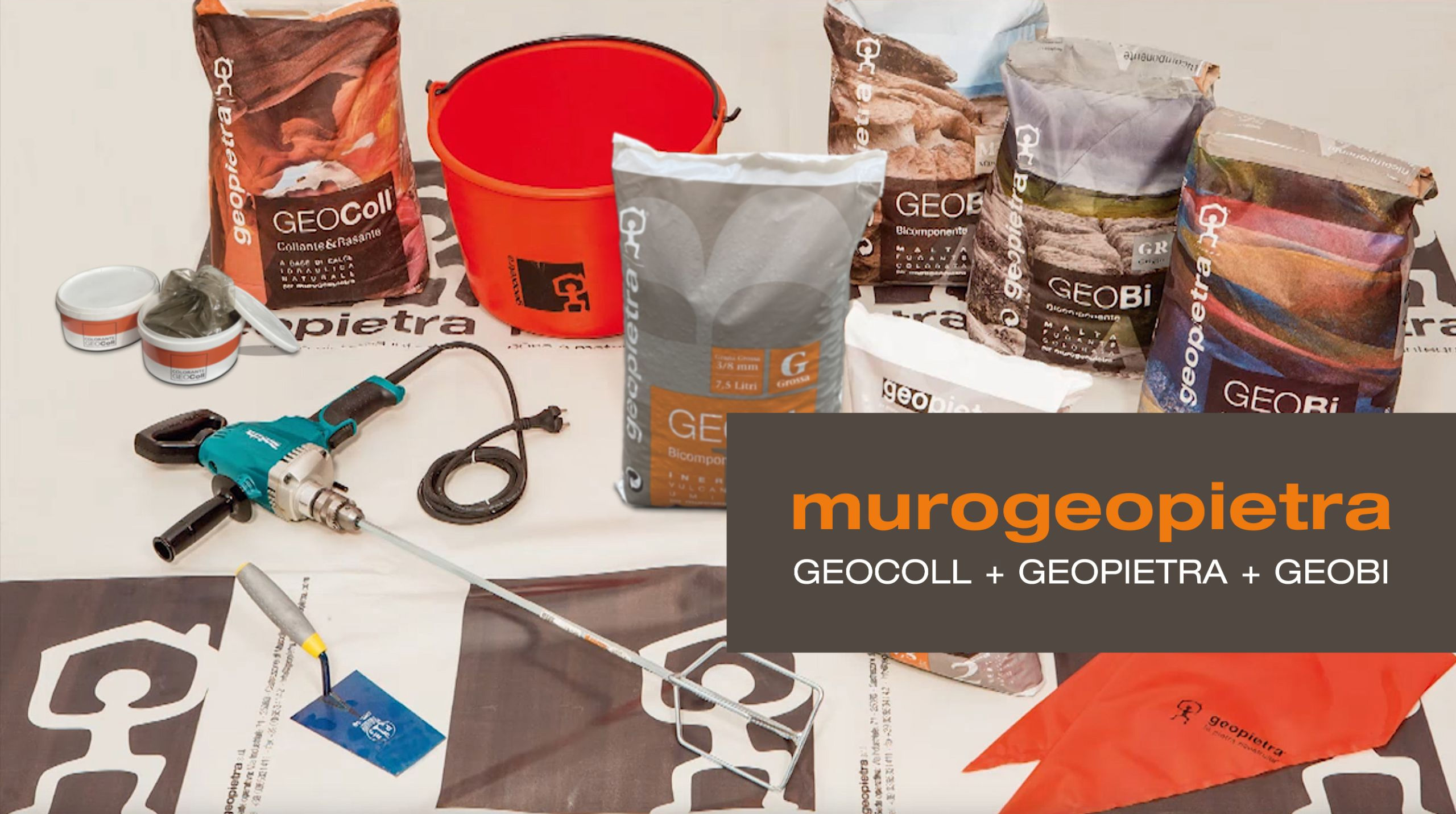 ALSO OF POTENTIAL INTEREST
TEXTURE
13 BENEFITS OF murogeopietra®
The strength of manufactured stone veneer in modern construction lies in energy savings, eco-sustainability and the wellbeing of building occupants.
PROJECTS
EXCLUSIVE WALL SOLUTIONS
Efficient solutions with high aesthetic appeal express the charm of stone in different architectural styles and construction types.