Abitasistema® is the guaranteed, integrated system for installing Murogeopietra® on ETAG 004 cladding, creating an insulated stone cladding.
2010, A CONVINCTION BECOMES A GUARANTEED SYSTEM
Stone has always accompanied human beings and defined their living conditions on earth. It has provided humankind with an extensive visual vocabulary through centuries, countries and cultures, transforming dreams and the poetry of life, and combining memory and functionality.
Abitasistema® solution represents the conviction of those who designed it, where the beauty and quality of life are as fundamental as the quality of materials and structural requirements. Commitment and experimentation led to the definition of excellent products, which demand safe features, dedicated components and reliable procedures in synergy, creating the first guaranteed method for the integrated implementation of Murogeopietra® on external ETAG004 cladding.
If nature is what models material into a design, Abitasistema® constitutes the system that adapts it to the new message and values of sustainable construction, enabling the seductive beauty of stone to enhance technical features and give them solidity and benefits.
Thanks to Abitasistema® efficient houses do not abandon their fundamental role of providing shelter, and a welcoming peaceful haven to live in.
THE FIRST GUARANTEED, INTEGRATED SYSTEM FOR INSTALLING murogeopietra® ON CLADDING
Our homes can have a significant impact on the environment, and change the existing thermal/ecological balance, if we consider that 40% of the energy consumed is used to heat buildings, and up to a third of the heat generated is lost through unprotected building envelops. Tested heat insulation systems make it possible to construct buildings that can keep energy consumption for heating to a minimum, while also enhancing comfort levels. Furthermore, the high quality of the materials used increases the lifetime and value of a construction over time.
External cladding has for some time now been an effective solution throughout Europe for saving energy. The guaranteed Abitasistema® solution has been specially created for efficient design that is free from structural and technical constraints, encompassing and developing the intrinsic potential of stone walls with regard to innovation and change.
Abitasistema® meets high performance standards in terms of security, anti-seismic capability, durability and eco-efficiency and, thanks to the variety of styles, colours and quality finishes available, enables the construction of the stone walls of the future.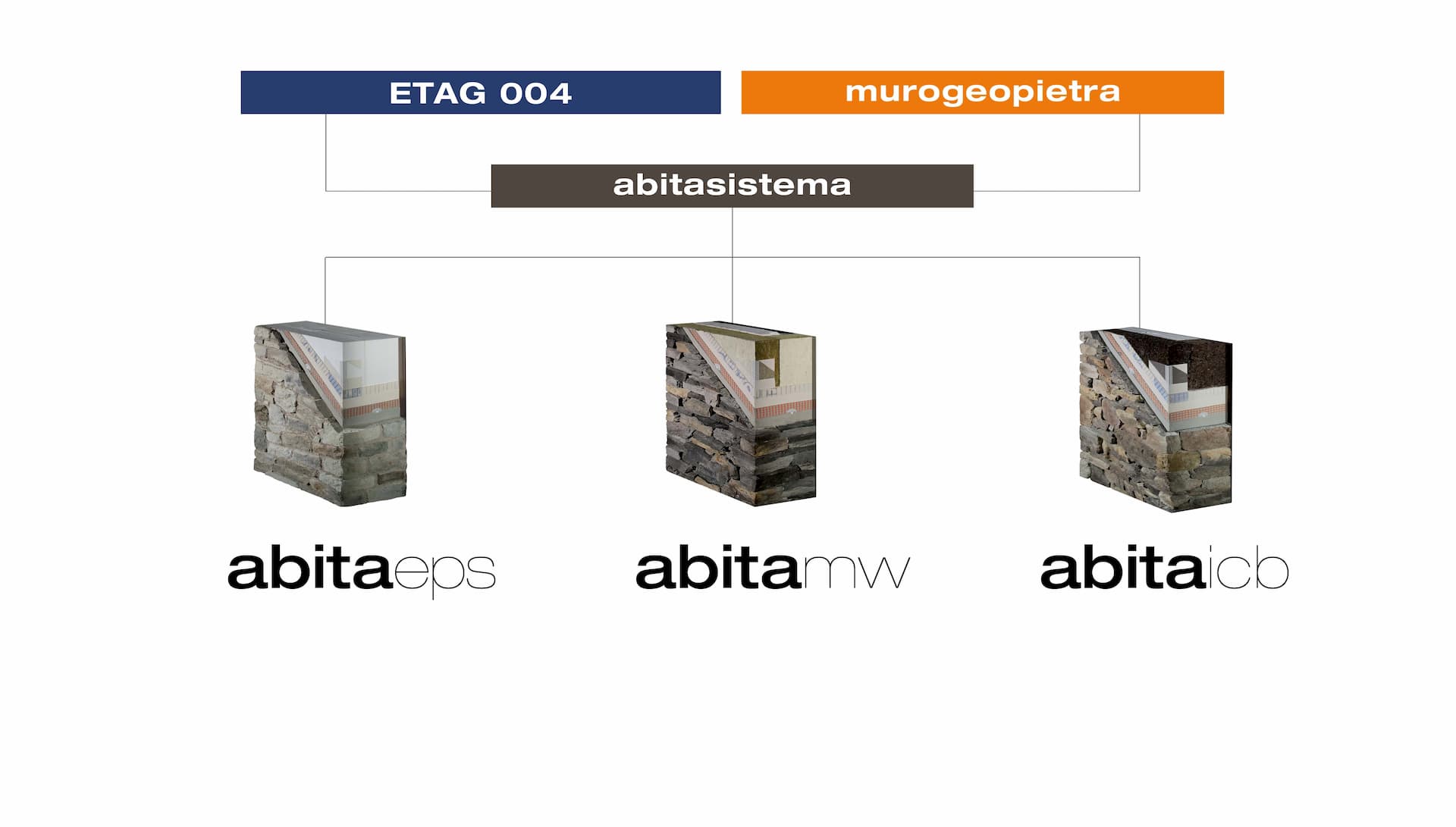 MUROGEOPIETRA INSTALLATION PROCEDURE ON ETAG 004 CLADDING
Geopietra® coverings must be installed professionally such that the functionality of the system and its features are not compromised, and using solely guaranteed products, namely GeoColl®, GeoRete, TOPFIX fasteners and GeoBi base coat.
The materials and procedures used in external thermal insulation systems must comply with ETAG 004 certification.
Manufacturers of external thermal insulation must guarantee a capacity of 70 kg/m².
Murogeopietra® is the first anti-seismic manufactured stone veneer wall in Europe that complies with standard UNI EN 1998-1.
In 2018 and in 2023 Murogeopietra® on EPS cladding easily passed the new LEPIR II test.
Passing the fire propagation LEPIR II test on regulated building facades (residential buildings, multi-storeys and public buildings) demonstrates that the Murogeopietra® installation procedure on EPS fully meets fire safety requirements for public buildings.
GENERAL LAYERING/DIAGRAM
Loadbearing base
Waterproofing the foundation
Adhesive and waterproof base coat
Insulation plinth panels
Protective embossed membrane
Draining material
Sheet of non-woven fabric
Adhesive and base coat
Insulation panel
Reinforcement mesh set in adhesive layer
GEORETE support mesh and GEOCOLL layer of adhesive
Suitable TOP FIX mechanical fasteners
GEOPIETRA manufactured stone veneer installed using GEOCOLL adhesive
GEOBI two-component grouting mortar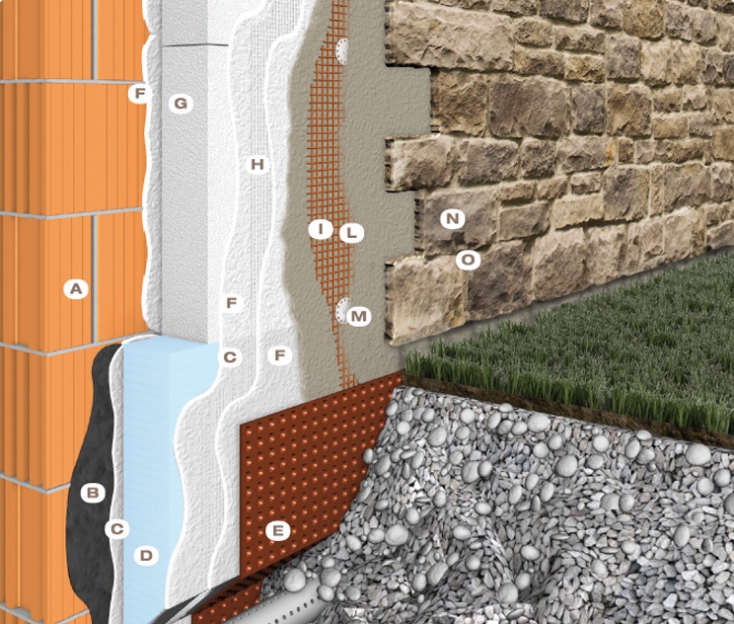 MUROGEOPIETRA® AND THE ADVANTAGES FOR BUILDING EFFICIENCY
Murogeopietra® is known and appreciated for its unequalled aesthetic qualities, and can add numerous benefits to the efficiency of buildings. Murogeopietra® expresses its best technical properties in the cladding of external thermal insulation systems and enhances its overall performance.
The considerable thermal inertia of Murogeopietra® acts as a shield against surface thermal shock, which is the main cause of external insulation systems failing.
Variations in temperature (which can be sudden in some circumstances) do not affect the insulation layer directly, but are damped by the protective external covering.
Thanks to an excellent weight/thermal conductivity ratio, Murogeopietra® contributes to insulation and lengthens thermal lag in walls, increasing cooling performance in the summer months.
On structures exposed to a fire hazard (timber frames, EPS insulation), the presence of Murogeopietra® extends fire resistance time, facilitating building evacuation during a fire.
Along with the Georete support mesh and safety plugs, Murogeopietra® helps reduce issues due to wind.
Murogeopietra® protects the insulation surface from impact.
Thanks to its irregular surface, Murogeopietra® helps to interrupt sound waves (especially models with indented surfaces). With its mass overlaying the structural mass, sound propagation is reduced.
Geopietra® natural manufactured stone veneer can combine and express different styles and architectural designs. Excellent technical features and full compatibility with current construction systems and materials, mean it is especially appreciated in contemporary architectural solutions, which draw character and emotional strength from these designs. Mould technology, the unique aging process and manual processing, painstakingly transform the stone into a one-off, craft product. Geopietra® offers the chance to create a unique design, and express a personal vision of creativity and modern living.
ALSO OF POTENTIAL INTEREST
RELIABILITY
COLLABORATORS FIRST AND FOREMOST
We are a creative team, founded on solid principles that enable passion for the craft, quality and excellence to form the basis for the constructions of tomorrow.
CATALOGUE
CREATING YOUR OWN MUROGEOPIETRA® SOLUTION
Create an original wall solution with a material that's remarkable to shape, and customise your design with our consultation service.