Contemporary expression for the yard, enclosure and grid.
Contemporary expression for the yard, enclosure and grid.
"The design endeavours to express an overall approach to sustainability, discovering ideas for a new type of architecture. It considers the person's present and future requirements, and draws inspiration from the opportunities resulting from new construction technologies and materials, finding the impetus for its expression within them. Studying typical Friulan characteristics underpins design considerations, with the adaptation of various location features to complete contemporary expression.Murogeopietra has made it possible to attribute the location's features to the base frame effectively and in a versatile fashion. The Morenico model has restored the typical appearance of local wall designs from the past in the heart of the Friulan Morainic hills. The stone installation, with its appropriate dimensions, arrangement and relationship between features and grouting, has been specially fitted to highlight tectonic patterns, with different courses from bottom to top, and the uneven character of a random arrangement. White, stone and the sky join together as the protagonists.". Arch. Margherita Mattiussi
The villa has been constructed according to green building requirements and has CasaClima certification in relation to energy savings and benefits of the materials used. It has been constructed completely in wood by Domus GAIA, the Friulan company known for its use of natural fully recyclable endorsed materials. Murogeopietra was chosen with its guaranteed integrated system which adapts to numerous bases, such as new dry/wood systems, ensuring the technical characteristics of the materials do not change over time.
In the article the model Morenico / profile Spontaneus has been presented.
You may also be interested in...
www.mmarchitetto.it
www.domusgaia.it/realizzazioni-case/casa-in-legno-moderna
Arch. Margherita Mattiussi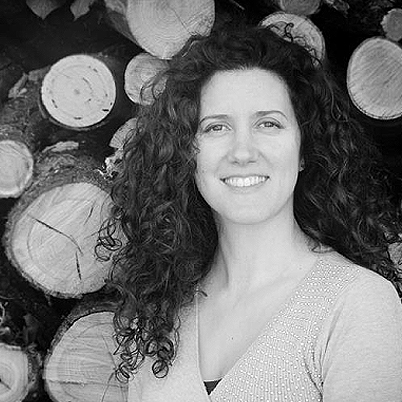 "I'm an architect but also a musician, so a bit of a mix by nature. I firmly believe in the benefits of mixing disciplines and forms of expression." Born in the Friuli region in 1982, she has turned her passions into a profession. She graduated with honours in 2006 from the IUAV University of Venice in Sustainable Architecture with a thesis on homes made of wood with the complete elimination of construction waste, after getting her diploma in viola from Udine Conservatory in 2005. With a passion for environmental and anthropological topics relating to architecture, she mainly deals with residential architectural design, especially energy-efficient constructions made of wood, in addition to furnishings and interior design. Always applying a multi-faceted approach, she has worked on cutting-edge Passivhaus projects abroad and been involved in research projects that focus on designs for the disabled.